Did my SIL's wedding about a month ago. Just now getting around to posting pictures here. The ceremony was casual and beachside. She didn't want anything too fussy or formal. We decided on a simple design...sand sculpture, sea-shell strewn, that kinda' thing. The bride's dress was candlelight so that's what color I tinted the buttercream. Top and bottom tiers were Vanilla Almond. Middle was Chocolate Fudge. I don't do normally do cakes, so this was the first I'd done in years. It had a bunch of imperfections, but the bride and groom were happy, as were the guests, and I guess that's all that matters. Reception site had white sheer curtains so no color. To help define the tiers a little more and showcase the shells, I put crushed graham cracker/Nilla wafer sand on each of the layers. Not my original vision for it, but, oh well....
First picture of edible shells sent to bride for approval. Made them in really small batches so each one would be different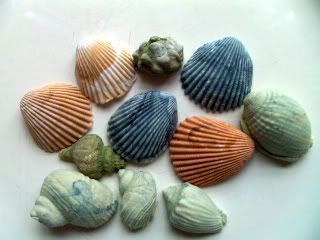 It was nerve wracking for me because we had to transport the cake to another state.